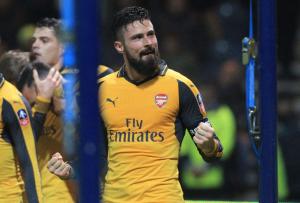 The Blues were unable to land Roma striker Dzeko and have now shaken hands on a 17 million euro fee plus incentives for the France international. The move will enableMichy Batshuayi to leave Stamford Bridge on loan, with Borussia Dortmund linked with the Belgian.
Chelsea's search for a striker appears to be coming to a close. They've been linked with everyone from the aforementioned Dzeko,
Giroud, Peter Crouch, Jamie Vardy, and a host of other strikers around the world.
As for Giroud, his long and strange career at Arsenal will, too, be coming to a close.
Often a divisive figure among the fans, he's had a penchant for scoring timely and highlight-reel worthy goals for the Gunners.
At Stamford Bridge he'll be called upon to use his big meaty French forehead to direct crosses behind opposing goalkeepers.